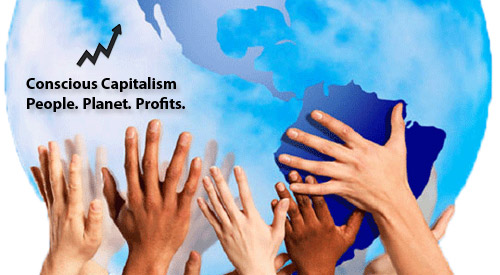 The entire framework and social responsibility of business is evolving. Welcome to Conscious Capitalism – the enlightened way to do business.
First and Foremost, what does it mean to be Conscious?
"To be conscious means to be awake, mindful. To live consciously means to be open to perceiving the world around and within us, to understand our circumstances, and to decide how to respond to them in ways that honor our needs, values, and goals." – Fred Kofman
Conscious Capitalism Definition
Conscious Capitalism is the reorientation of business focused solely on the pursuit of profits to one focused on integrity, higher standards, and serving all stakeholders – employees, suppliers, customers, investors, the community, and the world at large. Conscious Capitalism embodies the pursuit of a higher purpose than just business as usual. Conscious Capitalism  assumes that the fundamentals of capitalism must change if global businesses, communities and governments are going to thrive.
Core Principles of a Conscious Business
Deeper Purpose: Recognizing that every business has a deeper purpose than merely profit maximization, a Conscious Business is clear about and focused on fulfilling its deeper purpose.
Stakeholder Model: A Conscious Business focuses on delivering value to all of its stakeholders and works to align and harmonize the interests of customers, employees, suppliers, investors, the community, and the environment to the greatest extent possible.
Conscious Leadership: In a Conscious Business, management embodies conscious leadership and fosters it throughout the organization. Conscious leaders serve as stewards to the company's deeper purpose and its stakeholders, focusing on fulfilling the company's purpose, delivering value to its stakeholders, and facilitating a harmony of interests, rather than on personal gain and self-aggrandizement. Conscious leaders cultivate awareness throughout their business ecosystem, beginning with themselves and their team members, and moving into their relationships with each other and other stakeholders. (Source: Fred Kofman, Conscious Business)
History of the Phrase "Conscious Capitalism"
The phrase "conscious capitalism" was coined by Muhammad Yunus, recipient of a 2006 Nobel Peace Prize for his creation in 1983 of Bangladesh's pioneering microlender, Grameen Bank. Kip Tindell (CEO of the Container Store) and John Mackey (co-CEO of Whole Foods Market) co-founded Conscious Capitalism Alliance in 2007. The term "Conscious Capitalism" is a trademark of Conscious Capitalism Inc, the organization behind Conscious Capitalism Alliance.
Top Links and Free Resources:
10 Conscious Capitalism Companies – Part 1