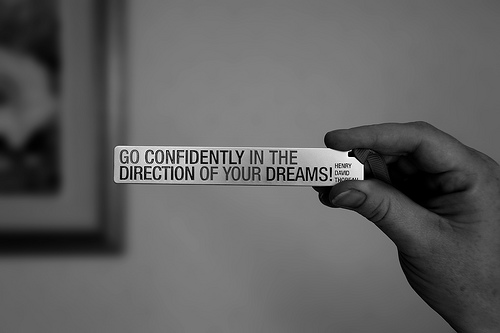 Social entrepreneurs recognize social problems and use entrepreneurial principles to organize, create and manage a venture to achieve social change. To be one takes courage, a keen mind and a big heart. —It's no easy gig.
Social entrepreneurs do one thing in particular. They inspire. And in doing so they bring dignity and peace to everyone they help. In terms of personal evolution it is one of the highest forms of "assistance" and impact happening right now on the planet.
So, with inspiration abounding, I put together this showcase of my favorite inspirational quotes to give a little inspiration back. Whether you're a social entrepreneur, impact investor, change-maker, movie character or cartoon, may they inspire the force within you.
"Do or do not. There is no try."
"Poverty is unnecessary."
"Miracles happen to those who believe in them."
"It's about all of us, and the kind of world that we, together, want to live in and share."
"Lead me, follow me, or get out of my way."
"We believe that business can be a tool for social good."
"I attribute my success to this – I never gave or took any excuse."
"The entrepreneur always searches for change, responds to it, and exploits it as an opportunity."
"I will accept this burden with all that I am!"
"But we also believe in taking risks, because that's how you move things along."
"Success is liking yourself, liking what you do, and liking how you do it."
"Begin with the end in mind."
"Great spirits have always encountered violent opposition from mediocre minds."
"For it is in giving that we receive."
"Social entrepreneurs are not content just to give a fish or teach how to fish. They will not rest until they have revolutionized the fishing industry."
"A very great vision is needed and the leader who has it must follow it as the eagle seeks the deepest blue of the sky"
Poverty is not only a lack of money, it's a lack of sense of meaning."
"The way to get started is to quit talking and begin doing."
"Opportunities are usually disguised as hard work, so most people don't recognize them."
"Life's most persistent and urgent question is, 'What are you doing for others?'
"The reasonable man adapts himself to the world; the unreasonable one persists in trying to adapt the world to himself. Therefore all progress depends on the unreasonable man."
"Find your passion… then it is no longer work!"
"Be the difference you want to see in the world."
"I feel the need. I feel the need for expeditious velocity."
Which entrepreneurial words of wisdom inspire you?